La Citadelle - "a fisherman's paradise"
---
That's a quote from one of our guests.

The farmer from whom we bought La Citadelle was a passionate fisherman, and when we met him in May this year he was quite indignant that I had not tried the fishing. The property had been advertised as having a well-stocked trout lake, but we had no way of knowing.

Our first guests, in June, were keen on fishing and after their holiday was over, told us that even their four year-old son had caught twenty fish!
---
Our second guest was even more enthusiastic. He told us that, not only was the lake full of trout but that there were plenty of bream, roach, and other fish. He had even caught a bright blue and yellow fish which he has not identified yet. Does anyone else know what it was? He caught a number of fish around 6 pounds, and lost a number "at least twice that size" because his line broke when he tried to land them. He had brought his own rod, but had to make rods for his four children from the giant bamboo growing around the lake. He said that the local supermarkets sell maggots (ugh!).
Of course, no-one has been fishing the lake for five years, so that's why the fish have grown so large. In 2000 guests caught fish up to 8 lb, but the monsters above that weight straightened the hooks or broke the lines. Since then, all of our parties of guests have included ardent fishermen. Their goal is the large carp lurking on the bottom. Success seems to depend on equipment, expertise, patience ... and luck! Those fish didn't get to grow so big by getting caught too often.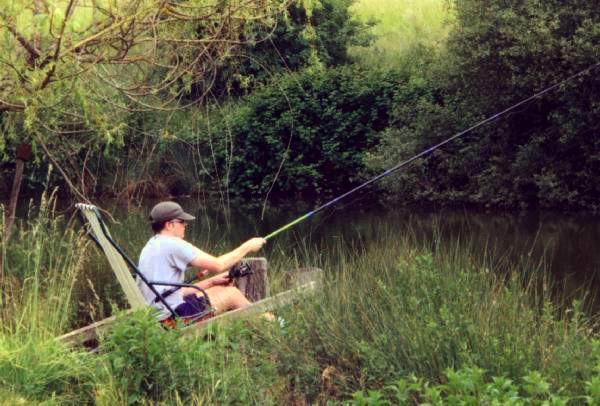 If you want to see one of the carp caught, click on this link for more pictures of the lake.

---
---